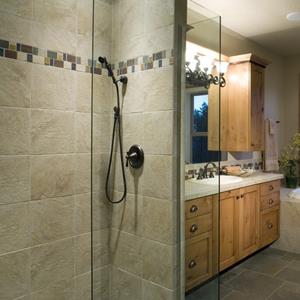 Considering a bathroom remodel?
Although this project might mean a lot of money and work in the long term, you can tackle it in parts and budget each project.
HomeAdvisor gets input from customers on each portion of a bathroom remodel, which allows us to collect accurate estimates.
See what the national average costs are for various bathroom projects and then see how much a complete bathroom remodel cost as reported by others in your area.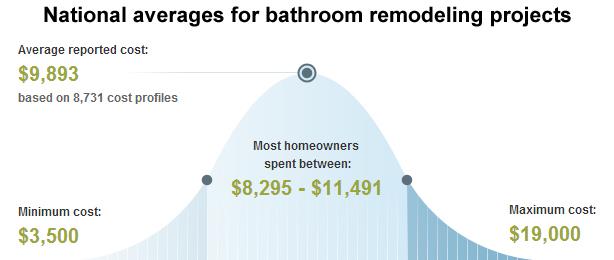 National average bathroom-remodeling costs by project
Install a bathtub: $3,186
Install a shower: $3,830
Glass shower door
Install: $950
Repair: $270
Toilet
Install: $411
Repair: $255
National average general remodeling costs by project
Note: These costs include remodeling in one or more rooms, not just bathrooms.
Install flooring: $3,005
Countertops
Install: $3,413
Repair: $422
Cabinets
Install: $592
Repair: $457
Reface: $7,350
Refinish: $2,676
Install a sink: $2,254
Install a faucet: $294
Install a lighting fixture: $1,444
Energy efficiency in the bathroom
Making the bathroom more energy-efficient might cost you more at first, but it will save you money down the road. Spending a little bit extra on WaterSense-certified​ faucets and showerheads, for example, will significantly lower the water bill. You can also buy and install a dual-flush toilet, which will add onto the amount of savings.
For energy efficiency, consider installing LED lights in the vanities and overhead lights. They're not much more expensive than regular bulbs, and they consume far less electricity, meaning a significant decrease on electricity bills.
 Before you start the remodel
Before you start any piece of the remodel, know what you want. Look at different types of materials for the bathtub, shower, flooring and so on. Keep a budget in mind for these materials and don't exceed it, even if someone tries to recommend otherwise.
You will also need to be aware of any additional labor costs, in case there are any complications with delivery or installation.
Make sure you get all the information you need from the professionals so there are no surprises or miscommunications along the way. The bathroom-remodeling pros are there to help you, and the project will be done to your specifications if they know everything you want before they start the project.
Article by MSN Real Estate. Original can be found here: How to budget a bathroom remodel – MSN Real Estate.